Dear Readers,
I am so excited to announce that Random.org has chosen the following reader from Lily's comment section to receive a $25 gift credit at
HappyHooksCrochet

ch:
Holy Schmoly those hats are CUTE! I'm thankful that someone ELSE is going through some teething grumps. LC never fussed when she was cutting teeth...Jace, on the other hand, wants the entire county to be informed about the pain he is in. Sheesh...



"ch" is the mama behind one of my favoritest blogs in the world:
The Adventures of Pudge and Zippy
And the fact that Random.org picked them to win, completely "sealed the deal" for me when I thought about my post today (below). Down syndrome adoption has been heavy on my heart lately. I told God I would do whatever He wanted me to about this burden. (See below!)
Pudge and Zippy- also known as LC and Jace- were adopted into their loving home, by parents
who sought out
babies with Down syndrome to adopt. My hat goes off to Courtney and Justin for the adventure they willingly chose to embark upon. SO I am incredibly blessed and happy that their little squibs (read their blog and you'll know what I'm talking about) won the giveaway.
Also: the winner of the Christmas cap from sling-a-bye-baby has still not contacted me. Please (if you read this) email me, so I can give the seller your info. If not, I will have Random.org select a new winner.
Thanks so much to everyone who entered and left sweet comments!
P.S. Dear God: I get the message!
Happy Sunday!!
Love,
Patti oxox
*********************************
Dearest Lily,
Yesterday a package arrived in the mail...addressed to YOU!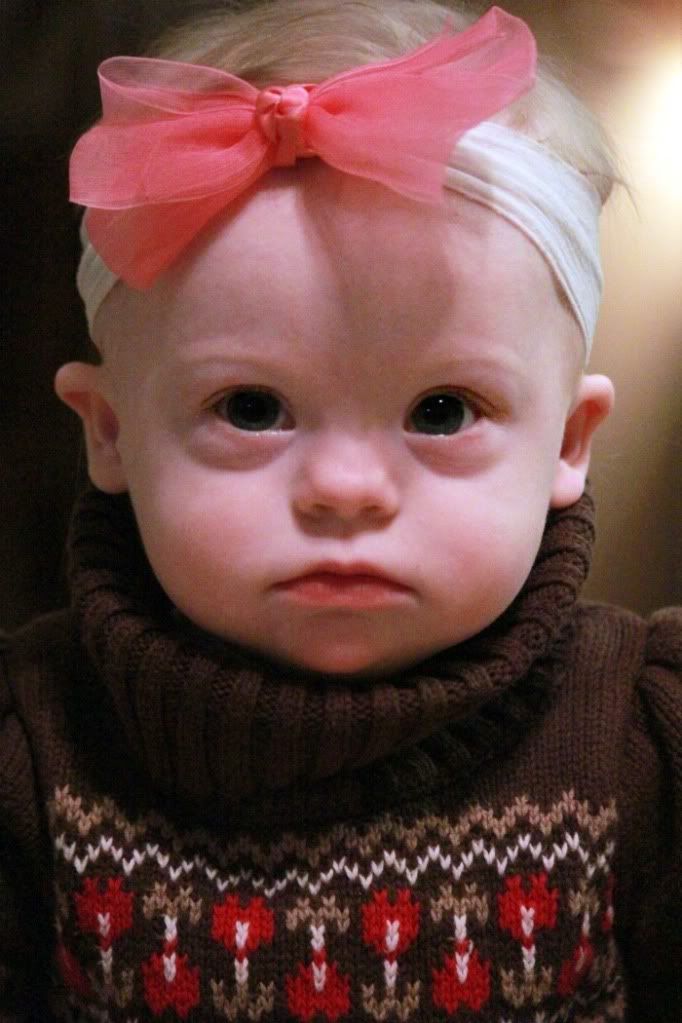 Your friend
Verity
sent you the most darling knit dress and a beautiful red sleeper! I had that package open for about 5 seconds, and what do you think we did?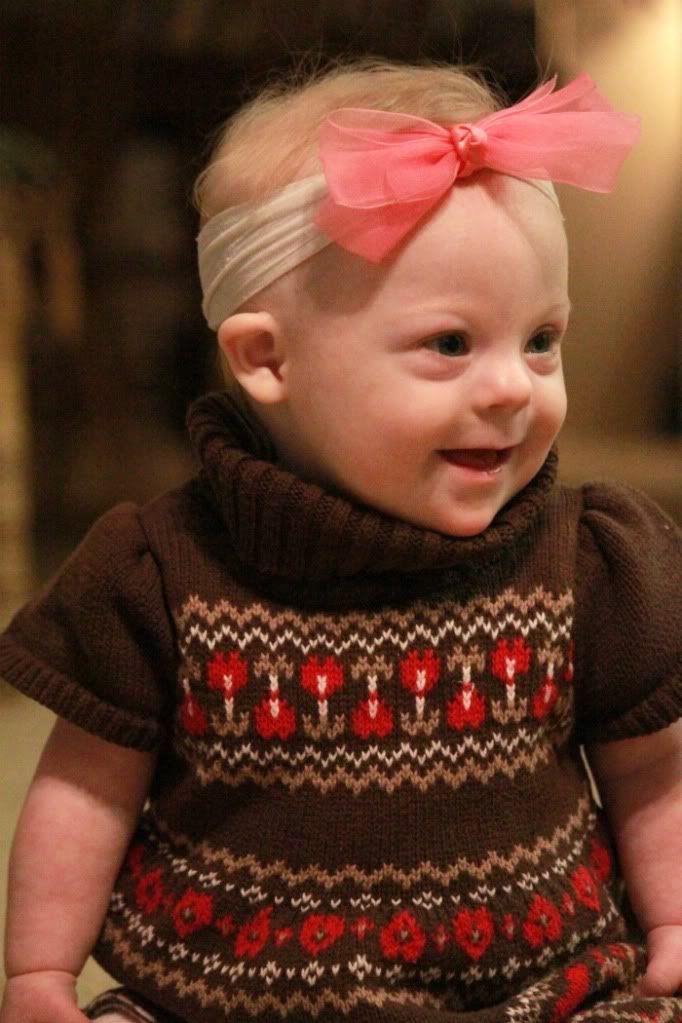 Yup, photo shoot time! I don't think I've ever seen you look cuter!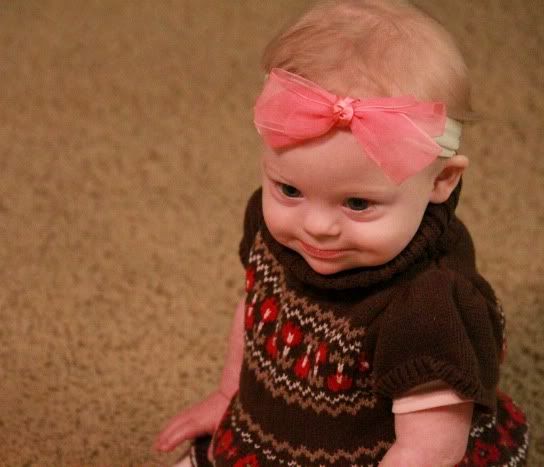 Verity's mama
says she is just a little too chubby for this dress. She said she pictured you looking beautiful in it, like a fair slender Lily...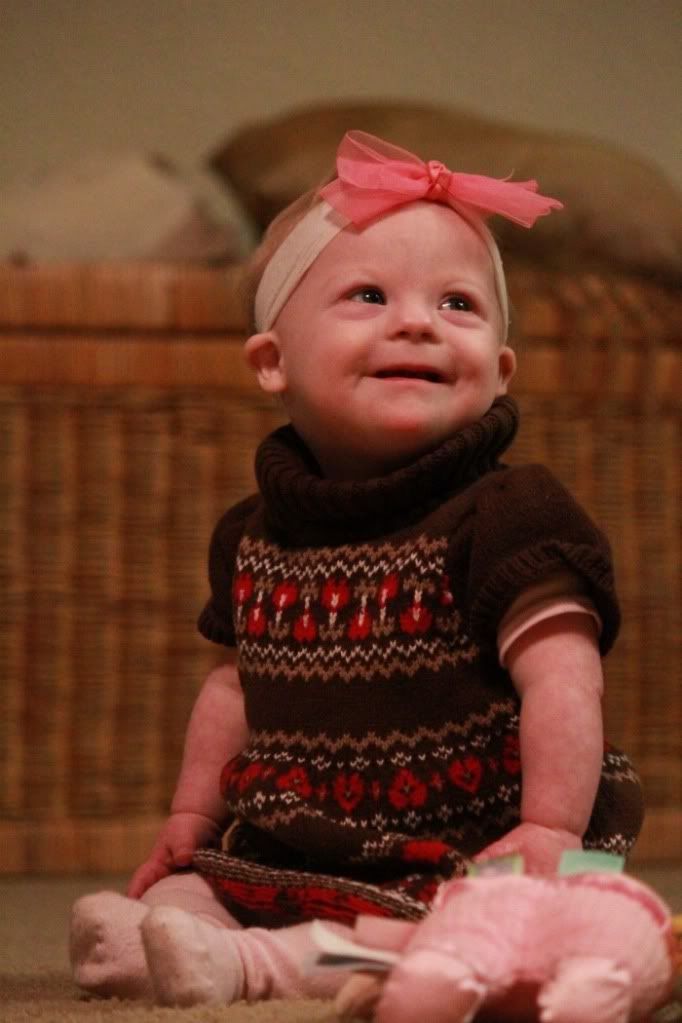 I think she was right! I know Mamas are a little...a lot... biased when it comes to their babies- but just about every day I look at you and think , "I can't believe she's
mine
! She's the cutest baby in the world!"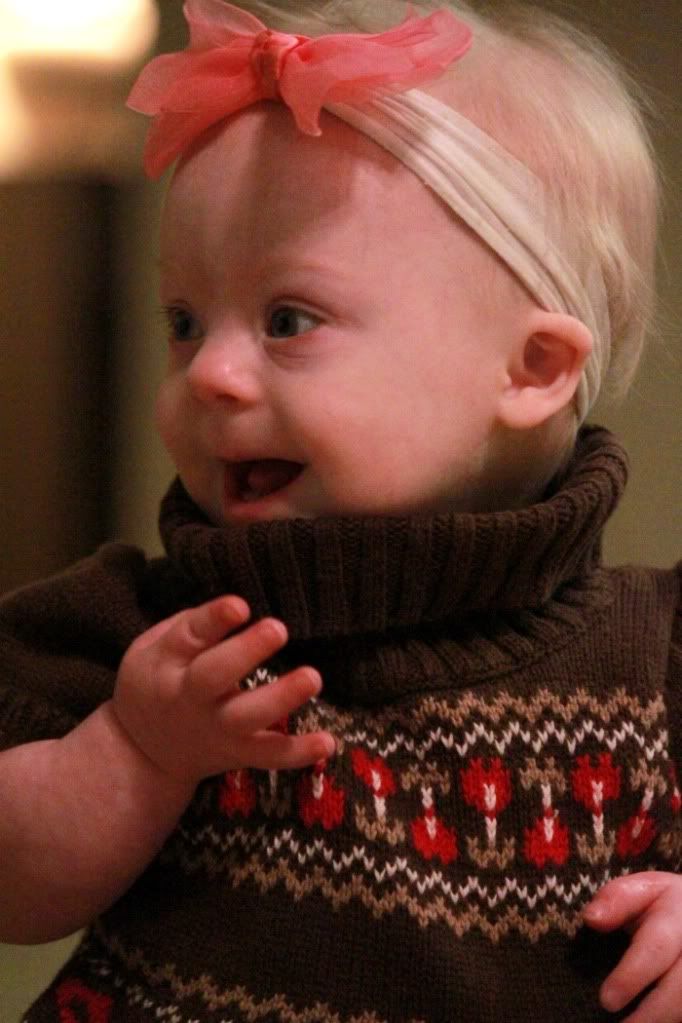 You have still been very grumpy trying to get those teeth to come in. Your brothers had to do all kinds of acrobats in the background to get you to smile for these pictures:)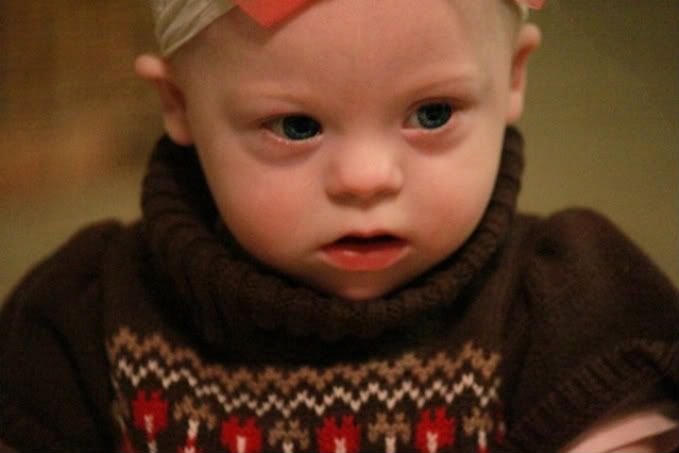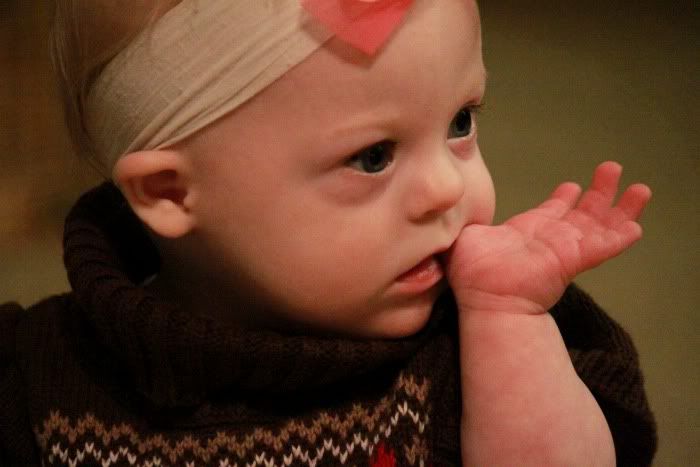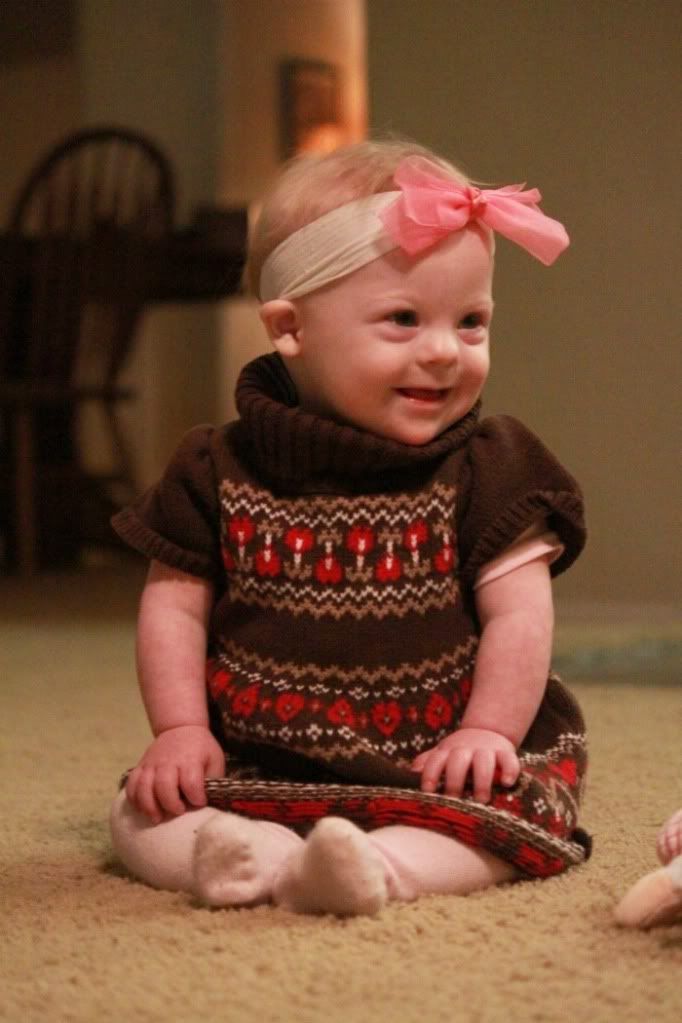 I love my Lilybird!
After we were done, Mama put you down for a nap. You were all worn out from our little photo shoot.
So while you were sleeping I did one of my favorite things...read about other babies like you. When you were born I read everything I could about Down syndrome. I googled all my questions til my browser "knew" that if I typed in D, the next word was Down syndrome! That's how I found out about Verity. Her family had 7 boys and 2 girls, just like ours! And her mama was expecting Verity, and she knew she had a heart problem that required surgery, as well as Ds. We "met", through our blogs, exchanged emails, and over the past 9 months we've prayed for each others babies, discussed nursing woes, cried on each other's shoulders, and shared some laughs too:)
Last night I sent Verity's mama a thank you note, telling her how much we loved the dress and the sleeper she sent you.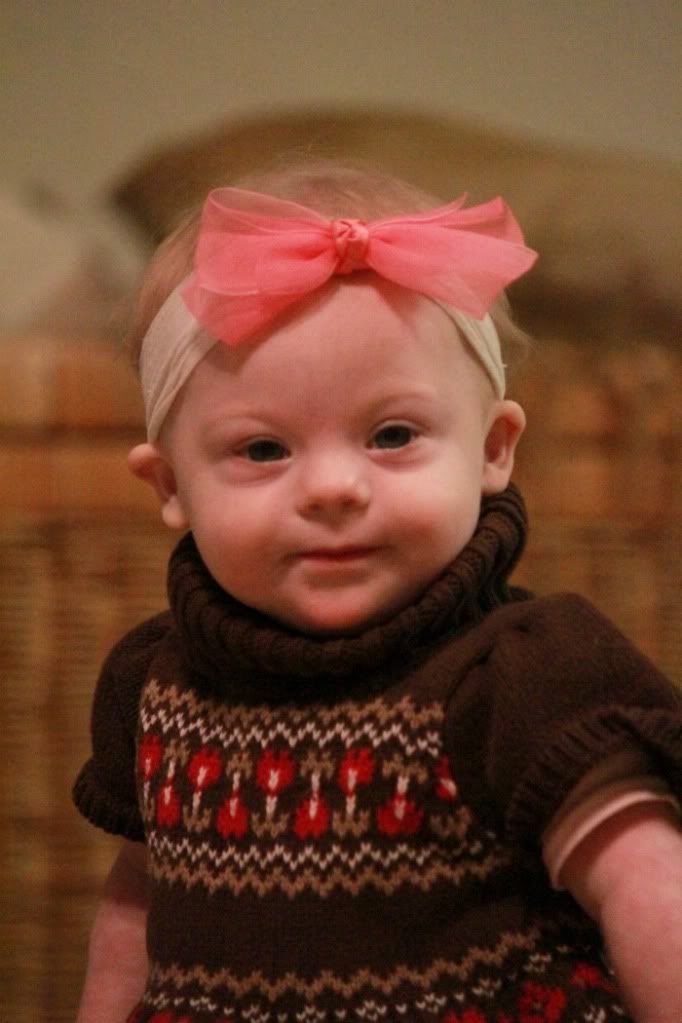 I also told her that I felt like God had put it on my heart to pray for and blog about something she blogged about recently. A number of us in the Ds community have fallen in love with the little angels on Reece's Rainbow. This is an organization that helps parents adopt children with Down syndrome who are in orphanages across the world. They began in 2006, and to this day 350 babies have been placed in loving homes, with over $700,000 in grant money raised through their organization to help adoptive parents.
Verity's parents are prayerfully pursuing adopting one of these precious babies. Right now they are in the planning stages, and they are in contact with a case worker who is helping them overcome the initial obstacles involved in this process. I told Susanna (Verity's mama) that when they get to the fund-raising stage, we will do all we can to help raise the funds to bring their baby home.
Lily, I can't imagine you being abandoned in one of those orphanages. I can't imagine a culture where babies with Ds are deemed unacceptable- which is the norm in many countries. My heart breaks thinking of little babies being raised without loving parents, and therapy and medical help...and love.
So while Verity's family was heavy on my heart, I went over to another of my favorite blogs to read,
Penny's Peeps
. Penny has a son with Down syndrome, and is a Christian Mom who is a little further on down the Ds road than me. I love to hear how Wyatt, her son, is doing, and get ideas for how we can help you in the future.
Last night Penny blogged about a set of twins that was born in Arkansas, waiting to be taken home by their adoptive parents. But something changed these parents minds when they went to pick their babies up...and they took their "healthy" baby home and left the twin in the hospital...the one with Down syndrome. (They knew ahead of time about the Ds- I don't know what made them change their minds.)
Penny's heart was broken- as was mine. She posted about it on Facebook, and so many people began to respond, that now there is a family waiting in the wings, hoping to take this baby home. I sat there reading and crying and thinking- I wish those parents could have seen
you.
I wish they could have had
had the chance to hold you and see your smile, and know how very wonderful a baby with Ds can be.
As I was reading, I glanced over at Penny's sidebar- and there was a sweet little face, just as pretty as yours. This baby's name is Melanie, and she is on a waiting list at Reece's Rainbow. I have seen her before, and read about her parents on their blog.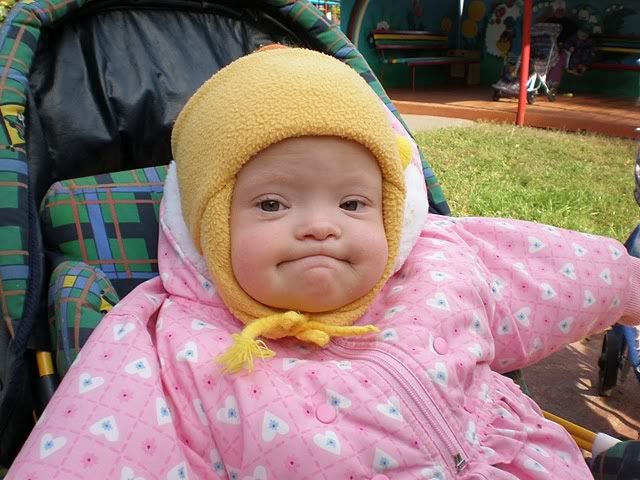 Deanna and her husband
have a beautiful little girl named Ragen, who has Down syndrome.
I read this on their blog last week:
Melanie lives in an orphanage in Eastern Europe. Melanie was born with Down Syndrome and has been deemed as inperfect and placed in an orphanage to be hidden away from society. Most children born with Down Syndrome in Eastern Europe are killed at birth and if not, they are thrown away in orphanages. "IF" they are lucky, they will stay there in the orphanage with the hope and prayer that a loving forever family will adopt them...but this does not happen to most. Most live their days in an orphanage until they turn 4. At that time they are placed in mental institutions where 85% die within the first year....alone...they die never having a mommy or daddy to hold and love them.
****edited to clarify: Deanna and her husband are trying to adopt Melanie, not Penny:)****
I asked Deanna last week if I could blog about their Melanie, to help raise funds to bring her home. She of course said yes...and over the course of my busy week, I forgot about my request. So yesterday, when your package arrived, I felt that little nudge from God that said "Pay attention here."
I can't go on Reece's Rainbow without spending hours afterwards trying to convince Daddy and God that we need to bring one of those babies home. Right now there doesn't seem to be any way we could do that financially.
But I think God is telling me- that doesn't mean we can't help someone else who can.
Verity's gift reminded me this. Penny's post reminded me this. Melanie's sweet face reminded me this. And Jace and LC winning the giveaway was not a nudge, it was a huge PUSH from God saying-
Pay attention here
!
So Lily, I am paying attention.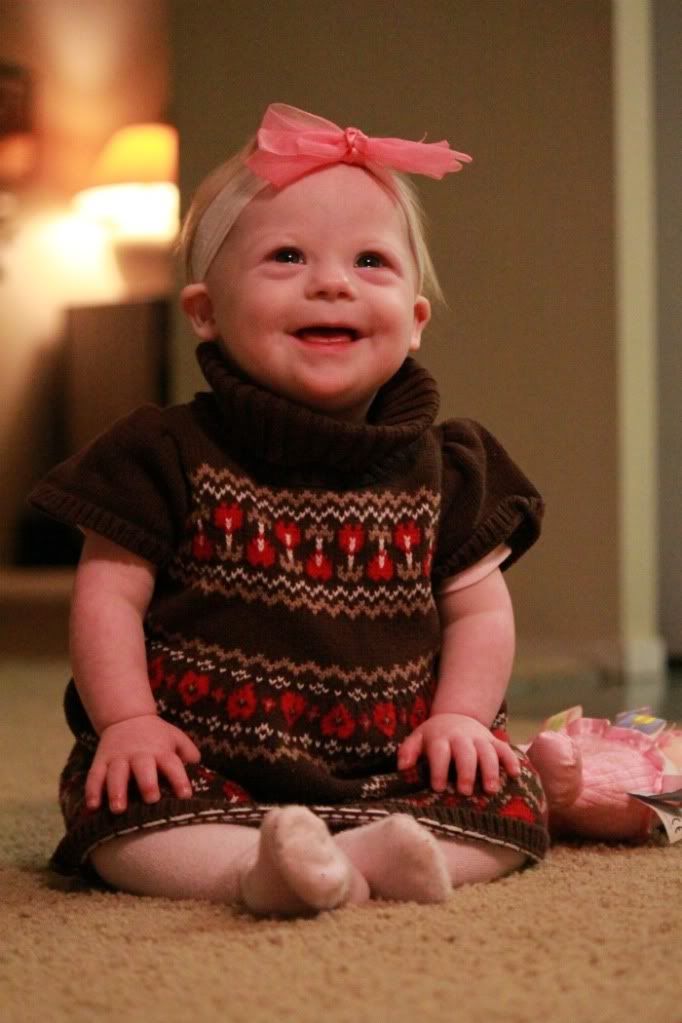 I am praying, and blogging, and asking your readers to consider helping bring Melanie home- and when Joe and Susanna are ready, to help bring their baby home as well.
I can't bring a baby home, but I can do this.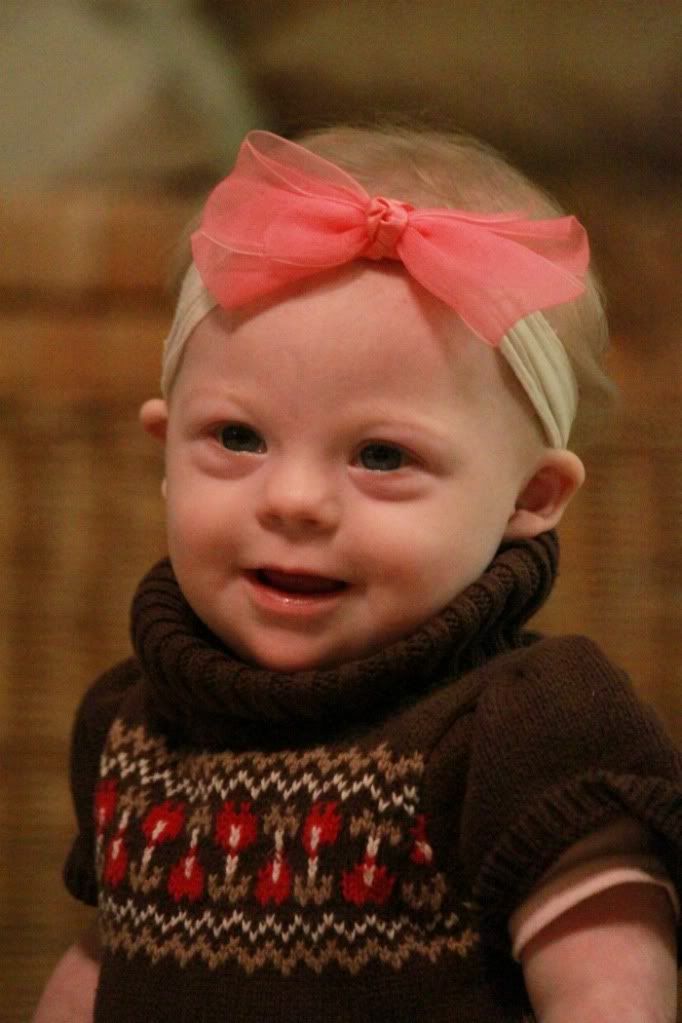 And hold you a little tighter, as I think of those sweet babies without Mamas to hold them.
All my love forever,
Mama oxox