Dear Readers,
On this wonderful day of Thanksgiving, one of the things I am most thankful for...oh my word, I am just TYPING, not even talking, and I am already tearing up! Don't know how I am going to get through our family tradition of saying what we're thankful for at the table! ANYWAY, one of the things I am most thankful for is YOU.
I can say- without a doubt- the thing that has helped me the most this year, as far as Lily having Down syndrome, besides God Himself...is the beautiful community of people I have met online through this blog. Whether you're a reader, a commenter, or a fellow blogging friend- your kind words and encouragement and love is what brought us through these past ten months.
I have said it many times- but I wore out the letter D on my keyboard, typing in Down syndrome this past year. And blogs are where I found the most information, the best "real life" picture of what a life lived with Down syndrome means. I have met so many friends who are not just my friends now- you are my family.
I can't tell you how many times I have been lying in bed at night thinking- how can I get us all in one place together? Can I plan a "reunion" where we could all meet?? But some of you live in Canada, some on the East Coast, some in the south, some in the Midwest... and here I am in the Great Northwest.
So my little brainstorming landed me on this post- I asked some of my favorite blogging mamas to answer three questions about their littles, and to send a photo of their munchkins as well.
***disclaimer: this post does
not
include all of the beautiful blogs I follow, just the ones I had time to "interview" today. I have about 20 more moms I hope to get in touch with for a future post!*****
Here are the three questions I asked each mama:
1)How did you find out your baby had Down syndrome?2)What do you know now about Ds, that you wish you knew before? 3)If you could give one piece of advice to a new mom receiving a diagnosis of Ds for her baby- what would it be?
So without further ado, here are my lifelines:) And they are in no particular order, I'm just copying and pasting as the response emails come in!
************************
Wren is Mommy to Sutter,
who is one of the cutest little guys I know! I found Wren's blog through a mutual blogging friend..her blog title caught my eye because it is
A Different Kind of Perfect
- so similar to Lily's. Imagine my surprise when I found out they were born on the same day!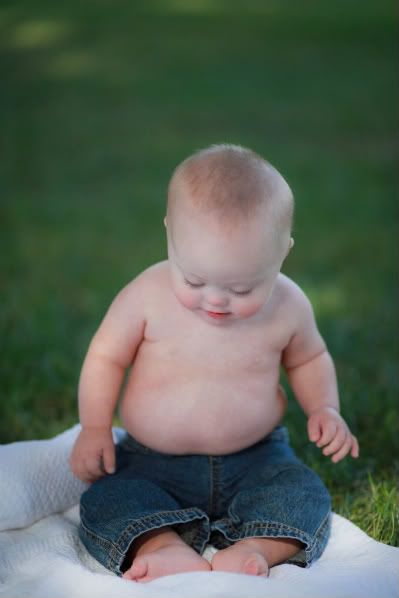 1)
Sutter was born on Saturday 1/16/2010 at 11:40pm, and at 10am Sunday morning (1/17) the on call Pediatrician came in our hospital room to do Sutter's initial newborn check up. Although I'm sure I'll never forget the words a great deal of what came next is a blur...."I think your son may have Down syndrome and I'd like to order a genetic blood test". Enter the blur! I do remember thinking "I'm sorry, who are you", "you're wrong", "so what, he's still my perfect baby" and "stop using that pathetic tone of voice when you refer to my baby". I'm sure there were several other things going through my mind, but again the blur had set in and I wasn't comprehending or retaining much. I didn't cry and I don't think I spoke, just sat there and nodded my head as if to say I understood what he was telling me..... clearly I didn't! He asked if we had any questions and then left the room and sent my parents back in. We told my parents what he said and then assured them that he was probably wrong since there were only a couple of things that made him think Sutter "might" have Down syndrome.....tiny low ears, the gap between his big toe and second toe seemed large and his face was a little flat. On Tuesday 1/26/2010 Sutter's doctor called to confirm that Sutter did in fact have Trisomy 21.....by this point I already knew what the test would say!
2)
I wish I knew that Sutter would learn and develop just like a "typical" baby. Sure it may take a little longer than a typical baby, but Sutter is VERY capable of learning and in my opinion is smart. I'm not sure why this surprised me as much as it did, but most likely it was due to my ignorance of Down syndrome and what it actually meant prior to having Sutter.
3)
I have so many things I would tell that new mom, but I think the first thing I would say is take LOTS of pictures and don't delete them if you "see" the Down syndrome. I promise one day when you look back at those pictures, you won't see the Down syndrome, you'll only see your sweet precious newborn baby!
***************
Addison's Mommy, Deanna
, has an incredible sense of humor...especially given all she has gone through with her daughter medically. My favorite posts on her blog,
Everything and Nothing From Essex
are "the photos with captions" posts..Addison a.k.a. Chubbs has THE CUTEST expressions and my family usually knows which blog I'm on because I am laughing out loud while I'm reading it.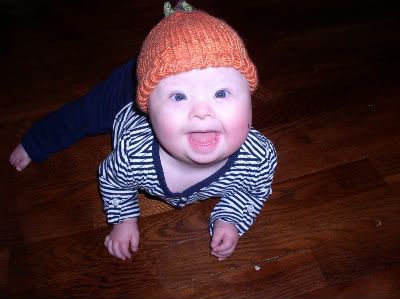 1)
At our 19 week ultrasound, in addition to finding out that we were having a baby girl, our OB found two large cysts on the back of her neck, abruptly ending the much anticipated half way ultrasound. We were sent to the high risk center the next week where they found four cysts on the back of her neck with an even more detailed ultrasound. We were advised to do an amnio because our chances jumped to 1/2 of our baby either having Down Syndrome or Turner's Syndrome with the discovery of the cysts. (As I was 25, our previous risk factor was 1/1400). Long story short- we did the amnio and it came back positive for Trisomy 21. The next twenty weeks of dealing with the concept and stereotypes of Down syndrome before having met my baby were incredibly difficult.
2)
I wish I had known before I had Addison that it was all going to be OK; that the "good" life was not over. I was scared of so many things- of her looking funny, of me not being able to love her, of resenting a daughter with limited intelligence, of life never being normal again, of never being able to feel happy or joy again. When I met Addison, those fears were all overtaken by love. A love so big that it surpassed my even greatest fears. The joy and happiness I felt then and now are far greater than any other time in my life. Addison is the best "thing" that has ever happened to me- Down syndrome and all.
3)
If you have received a diagnosis of DS for your baby- first of all, Congratulations! You have no idea how your life is about to change for the better. I am more familiar with a prenatal diagnosis, so if that is you, I would encourage you to still view your baby as a baby. Don't view your baby as simply a "syndrome". This is hard especially since you haven't met your baby yet. Your baby is every much an individual and a miracle as any other baby. Don't let the diagnosis take away from your joy of meeting this new life. An extra chromosome does not guarantee anything about your baby. She/he is still your baby, first and foremost and will be a child who needs you to accept him/her exactly as he was created- perfect for you.
******************
Verity's Mama, Susanna
is a kindred spirit with ten children, the youngest of whom has Ds. Her faith inspires me, and it leaps off the pages of her blog
The Blessing of Verity
. Our family prayed for so long that baby Verity's heart would be okay, that we feel like we know her. Thank you, Susanna, for your Godly example of faith through life's most difficult trials.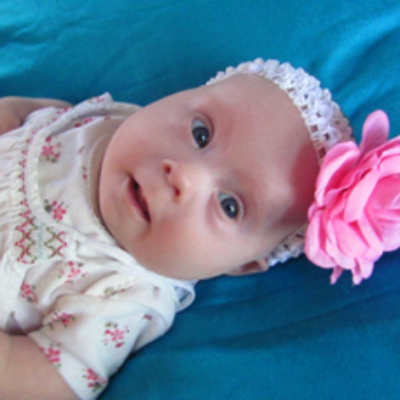 1)
For the long version, click here!
http://theblessingofverity.com/2010/02/day-one/
The short version is that we had a routine mid-pregnancy ultrasound done. I just wanted to find out pink or blue, and was ecstatic to see that a little GIRL was on the way! Like my friend Patti, we had seven boys and only two girls at that point! Our excitement was somewhat tempered by the fact that I had seen a hole in our tiny daughter's heart. Three days later, I called my midwife for the ultrasound report, and she told me that our baby girl had a major heart defect and an absent nasal bone, both of which pointed to Down syndrome.
2)
Almost everything there is to know about Down syndrome! I was profoundly ignorant, shocked, grieved, and fearful. I wish I'd known... ...that children with Ds are smart and cute and have lots of personality, including a sense of humor. Really, I thought their hair grew in an institutional haircut and they had dull expressions on their faces all the time. Was I ever wrong! And Lily was one of the first babies I found online to teach me differently. ...that children with Ds could learn to read and write. (Yes, isn't that embarrassing?) That they just learn differently, but they DO learn. ...that adults with Ds have learned to drive, gone to college, written books, become public speakers, gotten married, owned businesses, and the list seems to be growing. ...that having a child with Ds would add so much dimension to life. That loving someone with Ds changes the way you see, and definitely for the better. ...that we would get way more fun and excitement out of every little milestone she reaches than we ever did out of our typical children's accomplishments. ...that the fear of Down syndrome is borne of ignorance. That the people to learn from are the people who love someone with Ds. Because they know.
3)
It is normal to grieve the child you were expecting to get, but I promise that some day you will celebrate the child you received!
*****************
Jenny is Mommy to Russell
...it's kind of funny how I met my sweet Canadian friend...I kept seeing a visitor from Canada on the feedjit tab...so when Jenny left a comment and I clicked on her profile, I realized she was my Canadian visitor. The name of her blog is
Our Little Chilli Tribe
, so I always assumed she was from Chilliwack, BC ...just a little while ago I found out her last name is Chillihitzia, thus her blog name!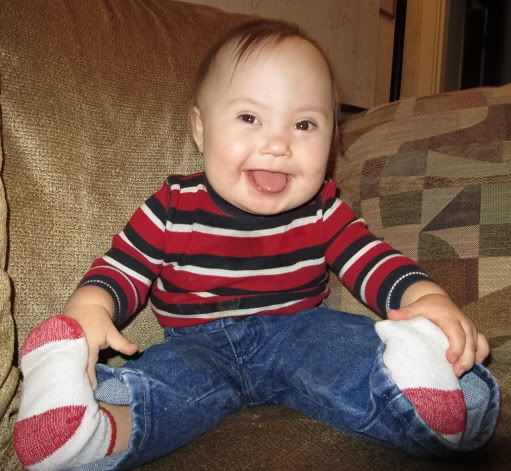 1.
Russell was born just after midnight on the 29th of December. I remember one of the very first things I said when I held him that first time was "He is so perfect" Little did I know how much those words would mean to me in the weeks to come. Russell slept that entire night, I knew this was strange and that he seemed extra sleepy, but I didn't really give it to much thought. A nurse came in the next morning around 10am and asked if he had eaten yet, I said he hadn't and that I couldn't get him to wake up. She called the Doctor in to examine Russell. The next two minutes felt like an eternity as I watched the Doctor look over and measure everything on him. Then she pulled Russell gently by the arms and I saw his little head instantly flop backwards and I knew this was not normal. It was then that she sat down on my bed and told me she suspected my son had Down syndrome.
2.
There are many things I know now about Down syndrome that I didnt know back then. One of the biggest things I learned was that Ds is NOT caused by anything the Mother did during pregnancy. I didn't know this before, I thought what had happened to Russell was my fault, something I had done wrong. Now I know it is caused by an error in cell division and it had nothing to do with me.
I thought people with Down syndrome never developed mentaly passed a certain age, I thought they could not understand or learn. I now know that this is very untrue. I know now that people with Down syndrome are More Alike Than Different, that they CAN, and DO, learn and understand.
3.
I would tell a new Mother facing the diagnosis of Down syndrome that everything is going to be ok. That it is important to allow yourself time to grieve and be sad and even angry a little, and you don't need to feel guilty about having these feelings. But it is also important to move forward, to treat your child just like you would any other child. Life does go on, and not only that, but there is great joy and happiness, and raising a child with Down syndrome truly is a blessing in so many ways.
***************
Missy is Mommy to Violette
. I found her blog,
Yo Mamma Mamma!
through another of my favorite online resources,
Babycenter.com
Melissa is active on the Down syndrome boards there, and she provides a WEALTH of information about Ds both there and on her blog.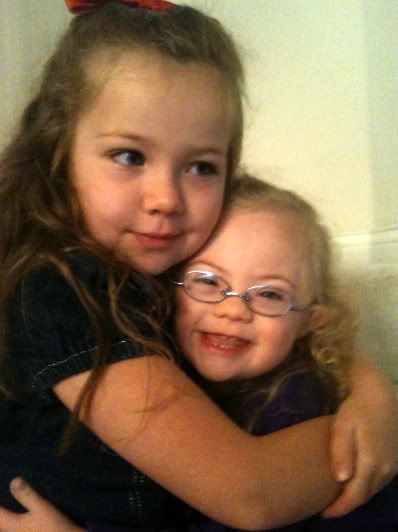 1)
I had been told at about 14 weeks that the results of my Ultrascreen were "Not good" by my perinatologist. I didn't have an amnio, and found out for sure when Violette was delivered by my wonderful OB, who said "Missy, your baby is beautiful, and she is perfect, and she will bring you so much joy, and I'm quite certain she has Down syndrome." My whole prenatal story can be found on my blog here:
http://yomammamamma.blogspot.com/2010/01/little-history-of-my-pregnancy-with.html
2)
I wish I had known how healthy Violette would be. I wish I had known how close she and my middle child Lilianne would be – I had felt so badly for Lilianne that she wasn't going to get the "real sister" I had hoped for her. I was so wrong about that – Violette is the best friend Lilianne will ever have, and Lilianne is the best friend Violette will ever have. I had no idea that Violette would be so funny – on purpose. She is always teasing us, joking with us, and making us laugh. She has her moments, but all in all she is a very fun person to spend time with! Down syndrome is just a small part of her!
3)
If you could give one piece of advice to a mom receiving a diagnosis of Ds for her baby- what would it be? Cry, mourn, wail, gnash your teeth. Get all that bad stuff and all those feelings out. Then talk to other moms who have kids with Down syndrome. Visit the Baby Center Down Syndrome Board. Join your local group and get active. All of those things, plus the wonderful things that are your baby, will get you to a point where you are rarely fearful or sad. For me it helped to set an end date for the sadness – I gave it 14 days, and then brushed myself off and became the best parent I could be for Violette.
********************
I met Laura's family through her
big sister Ashley's
blog, called
Dear Laura... Love, Sissy
Ashely's blog was almost identical to my daughter Mackenzie's blog- they are both 18, they are both budding photographers, and they both started beautiful blogs about their incredible love for their little sisters. It is almost scary how alike our families are- we can't wait to meet in person some day!
I asked
Laura's mommy Sherry
to share her answers here...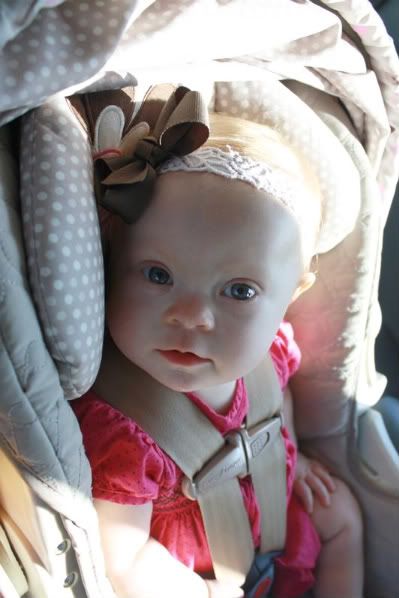 1)
My daughter, Ashley, has a detailed post on her blog
http://somethingbeautiful1025.blogspot.com/p/down-syndrome-diagnosis.html
which beautifully describes the day we found out that our baby might have Down syndrome.
2)
There are so many things that I know now that I wish I would have known when I was pregnant. But, one of the main things I wish I would have known is that babies with Down syndrome are no different than any other baby except for the fact that they learn a little slower and their outward appearance is a little different. Things that I read on the internet while I was pregnant caused me to believe that my new baby would be completely different than my other babies...but she's not. She is perfect, and exactly who God intended her to be.
3)
I would tell her not to worry or stress about her new baby having Down syndrome, and just to love and enjoy her pregnancy/baby. Doctors usually only give the negative side of having a baby with Down syndrome, and will tell you what your baby won't do instead of telling you all of the wonderful things that your baby WILL do!
*********************
Melissa is Mommy to Claire
at
Moos Crossing

.
I remember the first time I saw little Claire (don't laugh, Melissa!) thinking "Who says babies with Ds all have thin hair?!" Claire has enough hair for all ten of my bald babies:)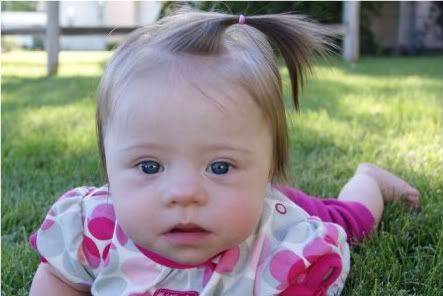 1)
My quad screen test came back 'positive' with 1:80 results. We had a level II u/s at 18w and they found our baby had shortened arm and legs bones. Darren is 6 ft 3 in so this was a pretty big indicator for us. We declined an amnio, and had growth scans every 4w to keep an eye on her. At 29w weeks they found her heart defect and our odds increased to 1:2. Even though we technically didn't have a dx at this point we knew. I'd spent a lot of time on babycenter at this point so I felt as educated as I could be, but we also started preparing our family for the very real possibility that she would have ds.
2)
What I wish I knew: I know that I love my girl totally and completely, and there is nothing that will change that! And that may sound silly, but there was a time I was worried that I just couldn't love a baby with Ds. That Ds would consume everything and that I wouldn't see HER! But now I rarely see Ds...that is a huge shift in a short amount of time
3)
My one piece of advice would be to read blogs. While there is lots of information about ds online, the personal stories about our kids brought me more comfort (and accurate info) than almost any other site. And as a huge bonus, I now have a whole new family!
*********************
Monica is John Michael's Mommy
, and her blog
Monkey Musings
was one of the first blogs I started following. Monica immediately welcomed me to the Ds community, and I remember her warm greeting and congratulations on having Lily made me feel instantly that I
belonged
here.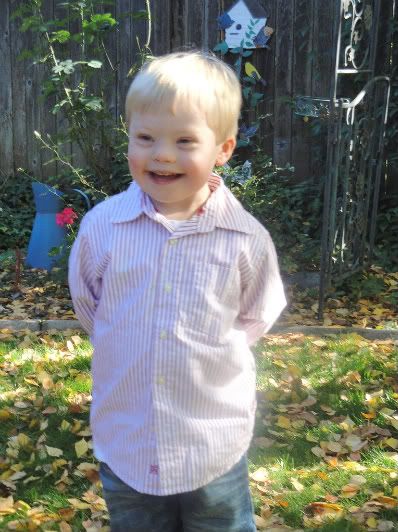 1)
Moments after John Michael was born and taken to the NICU, my OB/Gyn told my husband and I the words we'll never forget – "It looks like your baby has Down syndrome." Those words changed our lives and our childrens' lives forever, for the better.
2)
I've always known that ALL babies are gifts from God, and this includes babies with Down syndrome! I wish I hadn't wasted so many tears on being angry at God and sad at the diagnosis. I felt guilty for somehow making John Michael have Down syndrome, even though I'd read that it wasn't anything I did. I now know that everything will be more than OK. We have the best friends EVER since John Michael has come into our lives. God has also used John Michael's diagnosis to help me find my true purpose in life and it only took me 40 years to figure it out! I now have the courage to speak to people about Ds, to advocate for John Michael, to blog about raising my amazing little "Super Chromo Boy", and to help new moms whose babies have Ds. I couldn't have done that before he was born.
3)
Be kind to yourself. In the beginning, you'll have great days and some not-so-great days. Love your baby and take time to get to know him or her. All they need in the beginning is love, nourishment and a clean diaper. Don't get bogged down with all the medical stuff on Down syndrome. Take time to read the book
­Gifts: Mothers Reflect on How Children with Down Syndrome Enrich Their Lives
edited by Kathryn Lynard Soper. It is by far the best book for new moms and is very uplifting. You will soon realize that when people say how blessed you are to have a child with Down syndrome, they are right!
********************
Stephanie
at
Daily Smiles
truly makes me smile every time I stop by to see her delightful daughter, Em . I cannot help but leave that blog feeling totally encouraged and hopeful for Lily's future.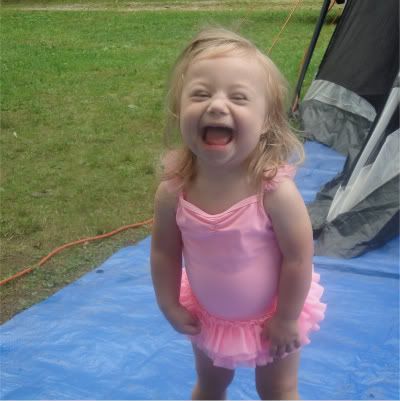 1)
When I was four months pregnant I was sent for a level 2 u/s, due to my advanced age. I was 39 at the time. During the u/s, they spotted an echogenic bowel on the baby. an echogenic bowel is not usually serious and in most cases it goes away on it's own, causing no issues. The big thing about an EB is, it is a soft marker for DS. But they can't give you a definite diagnosis with just that.So, I opted for the AFP Quad test. It came back positive. This test is not 100%, but it put me at a 1/2 chance of having a baby with Ds. I choose not to have any further testing. I knew in my heart at that point that Em would have Ds. You can read in more detail here,
http://ourdailysmiles.blogspot.com/2010/10/31-for-21-my-first-post.html
2)
I know that everything I thought, before Em was born, was WRONG! I know that people with Ds are amazing. I wish I knew what a gift I was being given. I wouldn't have wasted the last five months of my pregnancy worrying that MY life was over. I wish I knew how much I would love Em. I was worried I wouldn't love her like I love my other children. I wish I knew how proud I would be of her. Every little thing she accomplishes is HUGE in the world of Ds and worth celebrating. So basically, we party all the time now! I know now that Down syndrome is not something to shy away from, or be afraid of. People with Ds need our voices to help them raise awareness, and wipe out ignorance. I wish I didn't have to wait 39 years to recognize my own weaknesses and fears.
3)
Oh Boy! I would say, Rejoice! Enjoy your pregnancy, you are about to be the happiest person in the world! You have no idea how good it's all going to be. Honest! Don't let the diagnosis determine how you feel about you baby. Remember this is still your baby. Just a sweet baby, who has an extra chromosome. And that extra chromosome bring a lot of extra GOOD things with it.
*****************
Patsy is Maggie's Mom...
and if you want to be blown away by some beautiful photography, go see her blog
Miss Maggie Rae
I read her birth story and sobbed my eyes out...when her husband crawled into her hospital bed with her...and they cried the whole night through, waiting for a doctor to come confirm what nobody had told them, but what they knew in their hearts.
Such a different story today, though..who could NOT love this sweet little doll ?!!!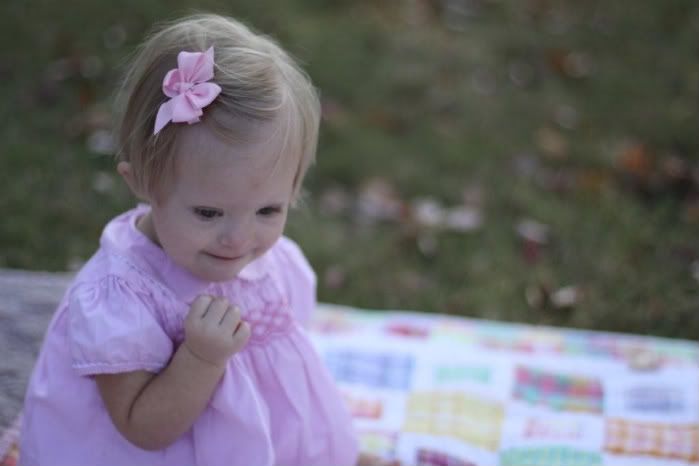 1)
We found out Miss Maggie's diagnosis at birth, which we feel was the best. My ob did offer the 'tests' @ 12 weeks and also the amnio at 20 weeks, but even though I was 38 I had not done any testing other than ultrasounds with any of my pregnancies. Jeff and I knew that we would not terminate the pregnancy, so we did not want to have the added risk of miscarriage that can come with an amnio. On our first of 3 ultrasounds our ob did inform us of a 'bright spot' on the babies heart which she said could be a marker for ds or just a calcium deposit. But she said there were no more markers so we should not worry. So we went home and googled 'bright spot on fetal heart' and out of like one hundred stories only 2 babies actually were born with ds but they also had other markers. So at 24 weeks we had another ultrasound and there were still no more markers...our ob said everything looked great. The femur measurements were normal...no club feet...no folds in the neck...the baby's heart looked great as did everything else. So we just knew everything was great, we continued to pray but felt we had no worries as far as ds went. Miss Maggie was born at 1:16 am and I knew as soon as they layed her on my chest. I saw those sweet little eyes that scared me to death at first..and now I think almond eyes are the most beautiful eyes I have ever seen. They took her for 7 hours to put her on oxygen and then the pediatrician came in to tell us that she had some markers of ds, but we already knew in from the moment I saw her. I did not need a blood test to confirm what I knew in my heart as a mother. But as far as everyone that says they want the amnio to be prepared....we feel our scenario was perfect. Because when I finally got to hold Miss Maggie some seven hours after she entered this world is when my fears just melted away. A sense of calm just came over my body as I looked into the eyes of this angel that was sent to us, and I feel if we had found out at 20 weeks we would have googled ds and probably read so much medical mumbo jumbo that would have scared us to death. But the day she was born my sweet sister was online for hours to find us an inspirational website and guess what she found for inspiration....a mother to a beautiful 3 year old little girl who just happened to have ds. But who also loved to dance and watch dora and things that we did not even know in those first few hours of Miss Maggie's life were an option in her future. We truly do feel so blessed to have gotten so much peace so quickly...but just hold Miss Maggie and look into those sweet little eyes and you will see why. To read more about her delivery...
http://missmaggierae.blogspot.com/2010/05/our-magpies-birth-story.html
2) what do I wish I had known? Honestly... anything. I feel so silly that we knew so little about anyone or anything with any special needs. Neither jeff or I had ever been around anyone with ds. We were so naive. Specifically...I wish I had known how much Miss Maggie would light up our life. She has made everything better. She is teaching our whole family to love unconditionally. To see the world through rose colored glasses. And to take in every little thing, and truly appreciate every little miracle. How much happiness I would get from watching that sweet face smile and how she makes everyone around her smile. She is like this little ball of 'happy' and I feel so lucky that the Lord picked us to go on this journey.
3) One piece of advice? Just have faith. The Lord does not make mistakes. I know I may not have said this before we welcomed Miss Maggie, but now I can honestly say I would not change a thing. Because if you took away the ds you may also take away so many other wonderful things about our Magpie. People say all the time ' she is so lucky to have you for parents'... but no.
We
are the lucky ones. She is making all of our lives so much better. I do not know that you can really make someone see it with just words.... it is just something that is put in your heart ...through faith.
***********************
Kelli is Colin's Mommy...
and I don't even remember how I found her blog,
Love For Colin
but I do remember falling in love with her little guy there, and wishing we lived closer to set him up with Lily:) We do still have lots of family back in New Jersey, so... who knows...;)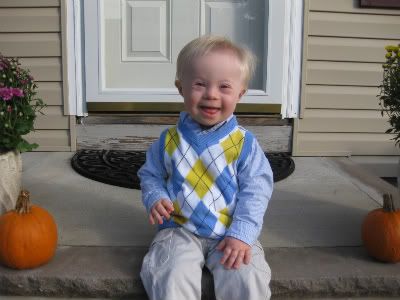 1)
We found out about Colin's diagnosis moments after his birth. When they handed him to me, I had this feeling about his eyes, but it was not confirmed until his pediatrician told us that she was going to test him because she suspected Down syndrome. Although this may have happened 10 - 20 minutes after his birth, in our memories of the moments following Colin's birth, it felt as though they said "it's a boy! we are testing him for Down Syndrome!" Earlier on in the pregnancy we had been referred to a high risk doctor because they had found this "bright spot" (echogenic cardiac focus) on Colin's heart. after meeting with the doctor, he told us that this bright spot can be a marker for a Down Syndrome (in not so great bedside manner) but since the rest of the screening tests we had done and based on our ages, he did not think this would be the case. He gave us the option of an amniocentisis but it was so foreign to me and not something that I thought was necessary so I had dismissed it. After following up a month or so later, the bright spot had resolved so he pretty much dismissed us and the notion that Colin would have Down Syndrome. I knew Colin had Down Syndrome, even before the results were confirmed exactly a week later, to the day, after his birth. I could not stop looking at those beautiful eyes...the pediatrician had me calling to check in with her daily because Colin was not eating as much as they would have liked early on. The day the diagnosis was confirmed, I had called her office and she asked to see us at the end of the week. Since I knew what she was going to tell me, I asked her to tell me on the phone. She said to me "I received the results today from Colin's genetic tests and they confirm the diagnosis of Down Syndrome". I hung up the phone with her and cried harder than I have ever cried in my life.
2)
I now know that DS is not about what children and adults with it can't do. My few experiences in life with people with DS were growing up in school and I can remember feeling bad because I thought there were so many things they couldn't do because of their diagnosis and I mostly thought they were related to the mental retardation that accompanied the diagnosis. However, one of the big things Colin has taught me so far about Down Syndrome is that it's not about what he can't do because he will do those things, with time, when he is ready. I wish I knew in those first few months that there are so many opportunities for people with Down Syndrome when people believe that they can do anything they set their minds to. I wish I knew that someone with DS could change my life in so many positive ways, unlike all of the negative things I originally thought. I wish I knew that having a child with Down Syndrome didn't automatically mean that they would never leave your home, that they would never be successful, that they would never do the things you had once hoped for...I wish I knew right away that anything was possible...
3)
The one piece of advice that I would give a new Mommy after just having received a diagnosis of DS for their child is to love first and worry second. That diagnosis IS the unknown and it's scary (and still is 19 months later!) but your child will be everything you ever hoped for and more simply because you love them and you will do whatever it takes for them. I spent so much time worrying from day 1 about what Colin wasn't doing, or why he was doing what he was doing, or when he would accomplish something, or what would happen when he hit his 20s and became an adult...it has taken me a long time to realize that I just needed to slow down and simply love him. Whether you have a child with a diagnosis or not, worrying is natural. However, you just can't think about the future because you don't know what will happen. Things come up along the way that you face and move on to the next, and the same will happen when you hit the future...so just love that little baby with all that you have...
****************
SO there you have it...only 11 of the 30 something Ds blogs I follow...and I do hope to "interview" the rest of the mommies in the future.
If you have a blog and I am a follower- count on it- you have impacted my life. You helped me so much this year, and you showed me that we are going to be okay...
more than okay.
And I am so very thankful for you.
And just as I was about to hit the "publish post" button, this comment came into my inbox:
Hi Patti! No, I do not have a blog about Benji. I am just now discovering this blog world. I know, I am in the dark ages I am sure. But somebody told me about these blogs because of Benji, and that is how I discovered yours. And I just read your birth story. Wow, it was so beautiful to read and right from your heart. Thank you for shining the light of the Lord out here in this blog world. Your family is precious. You can feel the love from the pictures. I am so thankful you blog because it is such an encouragement. You can really reach so many people this way and learn so much from others. The Lord has been using you to speak to me and you do not even know. He has confirmed things by what I have read from you and uplifted me and so much more. It is amazing how He is doing things in my heart right now as I see Him doing in yours. Very neat. He is so good!! Cara
So, now that I REALLY can't stop the tears, I think I will go kiss my Lilybird good night, and thank God for the billionth time for sending her to me:)
HAPPY THANKSGIVING!!!