Dearest Lilybird,
I'm not a fan of the day after Thanksgiving sales. But here we are, bundling up and getting ready to head out to brave the cold and crowds and hype, just you and Mama. Cuz your sister Abbi wants a Webkins, Jackson wants a rifle, Caleb asked for the game Mousetrap (do they still sell that game?) and your other siblings want books. And I'm pretty sure Walmart has all those things, so you and I are going to spend some Mama-daughter time together in search of those Christmas wish-list items.
I'd much rather be home sleeping in with you, but those frenetic crowds are just waiting for me. Sigh.
So to counter that gotta-have-get-it-while-you-can spirit, I'm asking Readers to go over to Stephanie's blog,
Daily Smiles
, and look at her little Olga, from Reece's Rainbow. Stephanie posed a $5 challenge to all of her readers. She asked each follower to chip in $5 to bring Olga home. $5 is nothing- it's a Starbucks drink these days! But if we all put our $5 in...that adds up to a chunk of change. I hope your readers will go to Daily Smiles...watch the video...and give.
Love always,
Mama oxox
And to say "thank you" for donating to Olga, I am hosting another giveaway! Mindy from Etsy shop
TwoLittle Doves
is donating these beautiful earrings to one winning commenter from Lily's comment section.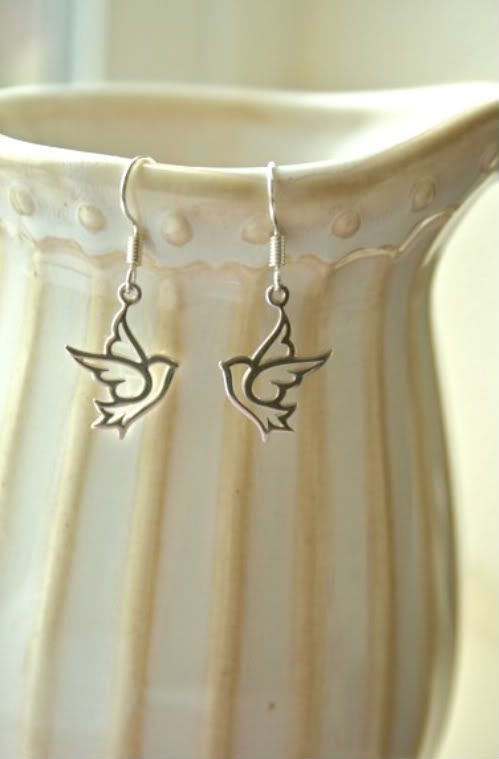 Smooth sterling silver doves dangle from sterling silver hooks (perfect for your sensitive ears!)

also available in silver plated lever backs if preferred
Mindy has the sweetest jewelry over at TwoLittleDoves, and after the giveaway she is offering a discount to Lily's readers. I'll give that code on Sunday night when I post the winner for these earrings!
If you leave a comment here, I will have Random.org select a winner Sunday night. If you donate to Olga, leave a comment on Steph's blog and you can leave another comment here for a second chance to win.
***EDITED TO ADD- you do not have to donate to Olga to enter the giveaway****
THANK YOU to Lily's readers, and please, if you can't give, pray for Olga and others like her at Reece's Rainbow.
Love,
Patti