Dearest Lily,
You turned six months yesterday!!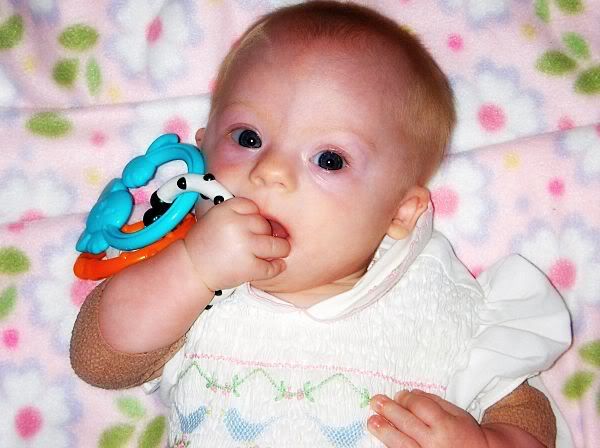 Daddy and I spent the day with you up in Portland at OHSU yesterday. When you were born, Dr. Pinter- a neurologist who specializes in Down syndrome research- came to visit you. This calm, brilliant doctor helped me so much in understanding that your diagnosis was not grim, but full of promise. I remember him saying in the lottery of disabilities we lucked out. Of all the trisomies and chromosomal conditions, Down syndrome is the "best" one to have, as far as functionality, intelligence, etc.
Dr. Pinter is one of nine children..one of his brothers was born severely handicapped, in fact as severely disabled as someone could be. Yet his family loved his brother and advocated for him, and they made his life the best that it could be. It was so clear to me as we talked that his love for his brother had been one of the factors in choosing his profession.
He looked you over before we were discharged from the NICU and said he wanted to see you again at 6 months. He gave me a wealth of information- websites, book recommendations, facts, charts...it was a lot to take home and delve into- and I have! I am always reading, always studying, always making sure we know all about your diagnosis so we can give you the best life possible. It is exciting to me how far research has come, and how far it will go in the future.
So yesterday we returned to Doernbecher's Children's Hospital to see Dr. Pinter and a host of other specialists. The first thing they did was weigh and measure you. You are now 10 lbs. 7 oz. and 22 inches! You are in the 10th percentile for height and 25th for weight on the Ds chart (adjusting for 3 weeks early.) Dr. Pinter was happy to hear that we had pushed it through with breast feeding, and that you are now exclusively nursing. What a long way we've come from wondering if you would ever get it!
You had your hearing checked...even though you passed your hearing test at birth, babies with Ds are at risk for hearing loss, because of their small ear canals. And you DO have small ears!! This, combined with your stay in the NICU merited another hearing test. (The audiologist explained that babies who spend a week in the NICU after birth have a greater risk of hearing loss..probably because of their need to be in the NICU in the first place.)
Unfortunately you had fluid in your ears- common for babies your age with Ds- so they were not able to get a good reading on your hearing. We will have you re-tested in 2 months, but Daddy and I are confident that you are hearing well. You turn your head easily in response to us calling your name, you startle at the dogs barking etc. But we do want to make sure the fluid goes away. The audiologist explained that prolonged fluid in the ears can hurt your speech development (or cause infection). I asked her what we can do to address this, should it continue to be a problem, and she said either antibiotics or tubes would be the solution. Either way, it gives Daddy and I something to pray about!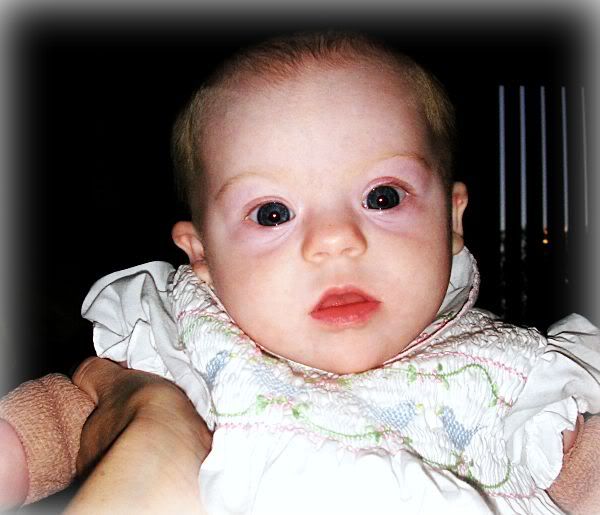 You also saw a speech therapist. Her name was Rebecca, and she was very kind and informative. She asked us a slew of questions- do you babble, coo, smile, laugh, respond, alert us when you needed something, demonstrate different cries...and did you know your siblings names??? I kid you not, Lily. I had to answer no to that last one. I have yet to see
any
of your siblings recognize each other's names at this point:) I think maybe a Mommy needs to help put that questionnaire together! However, we answered a resounding YES to all the other questions- you are a chatterbox!
Next you saw a physical therapist and an occupational therapist. They played with you and asked many questions, and they assessed where you are, developmentally. They did all the things your Early Intervention therapist, Karen, is doing with you. I asked a ton of questions, and they were ready with all kinds of suggestions for how to encourage you in reaching new milestones.
Lastly, Dr. Pinter came in. He was as kind and informative as when you
were born. If I were to recount all the information he gave us, it would take me hours to type! I felt like I was taking a crash course in genetics, Down syndrome, and
life
in one half an hour visit.
Both the therapists and Dr. Pinter were very happy to see how alert and connected and responsive you are. They were happy to see you holding your head up so well, lifting your upper torso up with your arms while lying on your tummy, rolling both ways, and starting to sit up with help. You are not reaching for toys quite yet- you are too content to keep your hands at your mouth, stuffing as many fingers in as humanly possible:)
When we told the doctor about you rolling over since birth, he did a double take. "Birth?" he asked. I told him how I had video taped it, because I knew it would be so hard to believe later. I said he had warned me in the hospital that babies with Ds rolled early, so I wasn't terribly surprised that you did..he said he had meant early, as in 2-3 months, not since birth! He asked me if I minded sending him the video- he speaks on Ds at many support groups, etc. and he loves including videos and photos whenever he can. We said of course we didn't mind! I also told him about your pucker-and-pop trick, and how we video taped you doing it in response to us. He asked for that video as well. It is so sweet to think of other families being encouraged by those videos of you!
We talked about how fascinated with people you are, but how toys aren't in your "sphere" quite yet. The therapists explained how to develop your interests in other things- by interacting with you with toys, etc. This can be done with puppets, books, light up toys...and all of this is important in cognitive development as well as speech development.
The best news Daddy and I heard yesterday from Dr. Pinter was that
our family
is the best thing you have going for you. He said no drug can do what a happy, involved family can do for you. Your siblings constantly engaging you, playing with you, loving you- there is no therapy better for you than that.
It was SO encouraging to hear that the things we are doing are working. I am always questioning this- are we doing everything for you we can? We can't afford twice weekly therapists..and frankly we just don't have the time for it. But Dr. Pinter reassured us that what we are doing with you, just in the daily life of a big family, is what will help you the most. There is always someone here to make you laugh, read to you, tickle you, hold you up to a mirror, encourage you to crawl...we have a host of "therapists" built in.
Dr.Pinter said you would have to have your blood drawn to re-check your thyroid. Sometimes this is a problem for babies with Ds- so far it hasn't been for you, but we need to keep monitoring it. As we said goodbye to Dr.Pinter, he made sure to let us know that we could email him at any time with questions. Lily, it is so wonderful to know there are experts available, and we are not in this alone.
We headed to the lab, where two sweet phlebotomists were waiting to draw your blood. They tried your left arm, but you have never bled very easily. Mama's heart broke as they tied the tourniquet on your right arm and drew blood...you cried harder than I've ever heard you cry. Daddy held your other arm and soothed you- Mama had to sit down to not pass out. I've never been very good with blood- but seeing my baby girl cry out in pain was just too much. When they finally finished, I scooped you up in my arms and burst into tears myself:( I don't know how those people want to go to work every day!
Finally Daddy and I headed to the Cafeteria- just for old times' sake:) Lily- I can hardly describe the joy we felt at knowing how far we've come in 6 months. Six months ago Daddy and I were eating all of our meals in that little Marquim Cafe, praying earnestly to be able to take you home to your anxious brothers and sisters. We would break down sometimes over dinner or lunch, expressing frustration over your seeming lack of progress in bottle and breast feeding. It felt like we were a million miles away from home, not just 100. Everything was so surreal- being so isolated from friends and family and
home
wore on us. We kept telling ourselves- one day we're going to be looking
back
on this week, and it will all be a distant memory. And it IS- -thank God! You are healthy and happy and deliciously adorable and WE LOVE YOU with all our hearts!
These past six months have been the best months of my life. I have learned so much, and grown so much as a mommy and person. I've experienced greater joy than I knew was possible, I've met so many wonderful new people and made so many new and lasting friendships. Our family has grown even closer- and I thought we were as close as a family could get! Having you has opened my eyes to a whole new world, where once missed milestones are now celebrated as monumental events, and the simple things are made splendid..a world where new adventures await around every curve in the road, and life just gets sweeter and better.
Happy 6 months, baby girl!!!
Love you forever,
Mama oxoxox