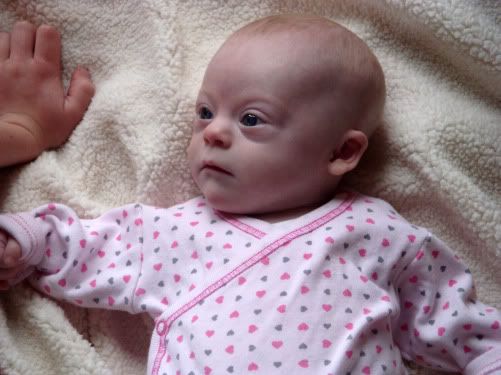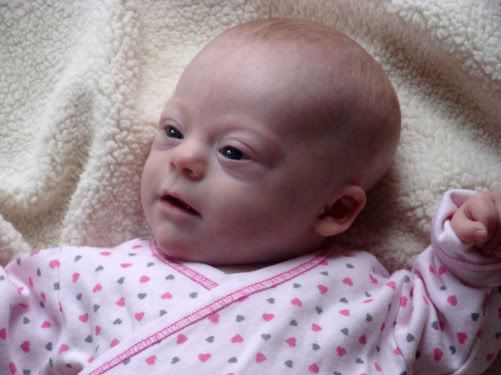 Dearest Lily,

Last Wednesday we took you to your follow-up echocardiogram with Dr. Rice. Remember her? She was Marcy from the Peanuts cartoon:) And she was still her doppleganger, replete with a big plastic hairclip positioned at a jaunty angle..slightly off-center...very much a living cartoon character- until she started talking. Once again I was reminded of what a brilliant physician she is. She rattled off information about the structures of the heart as if they were ingredients in a salad. She was kind and smiling and genuinely seemed happy to tell us that the results of your echocardiogram show a perfectly healthy heart !! No holes. No inflammation. No fluid surrounding it. All flaps have closed. No future echocardiograms- we are done!

I've never wanted to hug a stranger so badly!

Lily, when I think back to that very first "scary" ultrasound- and the doctor's words that he was "90 percent sure of what he was looking at"- an av canal defect..well, this is nothing short of a complete miracle. No open heart surgery, not even so much as a murmur to keep an eye on.

Thank you GOD for my baby's healthy heart!!

When I took you for your Prevnar shot on Friday, Sandy (your nurse) had already heard the report from Dr. Carr, who had talked to Dr. Rice. I think they were almost as excited as we were. Sandy asked if you were still Daddy's favorite...I told her unhesitatingly- yes:) I know he loves all his kids equally- but there is definitely a special bond you two share.

We took you with us on our romantic getaway after your shots. Daddy had reserved a bed and breakfast in the Columbia Gorge. I'd never been to that area, so I was amazed at how beautiful it was. Breathtakingly beautiful, winding roads cutting through mountains on both sides, as the Hood river snakes alongside the highway...This weekend was the "Blossom Festival" in the Hood River area, celebrating the arrival of spring, and everything was in full bloom. Cherry trees, magnolias, every type of fruit tree you could imagine was "blossoming".

According to Hood River's official website there are "over 15,000 acres of orchards exploding into bloom - carpeting the entire Valley in pearly white and pink blossoms."

You slept the whole drive there- I think your shots wore you out!!
When we arrived at the bed and breakfast, "Boba", the Lituanian hostess who met us at the foot of the stairs, took one look at you and said in a heavily accented, astonished tone, "I do not allow children!"

"She's joking!" Daddy laughed, and proceeded up Boba's steps past her, carseat in hand. A tiny sleeping angel happily snoring away in her Graco snug-ride surely could not be a threat to anyone, least of all buxom, blond, aging Lithuanian innkeepers.

But Boba raised her arched eyebrows, glared at me and said "I am not kidding! I do not allow anyone under 12! We have other guests!"

Daddy trotted happily upstairs, baby-in-tow, oblivious to Boba and her shock-filled eyes that were now boring holes into the back of his head.

"Sam! She is serious!" I said, smiling at Boba with my best "Isn't he cute when he doesn't pay attention" grin.

Daddy turned around half-way up the stairs ...to see Boba, ready to charge at him with a meat cleaver if neccesary, lest our Lily-bird awaken screaming and scare all the Blossom worshippers away to Motel 6's..

"She's serious," I repeated, smiling at Daddy with my best "I'm going to kill you if you don't 'get' that this woman does not have a funny bone in her body!" smile.

Finally Daddy looked at Boba- hands placed firmly on generous hips- and got it.

"She's only 3 months old," he said, flashing his award-winning wheeler-dealer-of-the-year grin.

Not gonna cut it.

Boba announced that she would take us upstairs to her sitting room, and help us call around- but she could not make exceptions, she had other guests to think of.

Who knew that one little Lily-bird could cause such a scandal?

Daddy placed several phone calls, and true to his wheeler-dealer reputation, landed us a 2 bedroom suite right on the river, breakfast, fireplace, and jacuzzi included.. for the same price as the bed and breakfast. And babies were accepted!

A wonderfully relaxing, beautiful vacation followed..yummy meals using only 1/2 of my saved up flex-points for the week (all praise and adoration for weight watchers, and to Danielle for mentoring me in their ways:)) ...a fun morning spent sleeping in and waking up to Daddy and you flirting and cooing with each other..you worship your Daddy!

And here is the proof...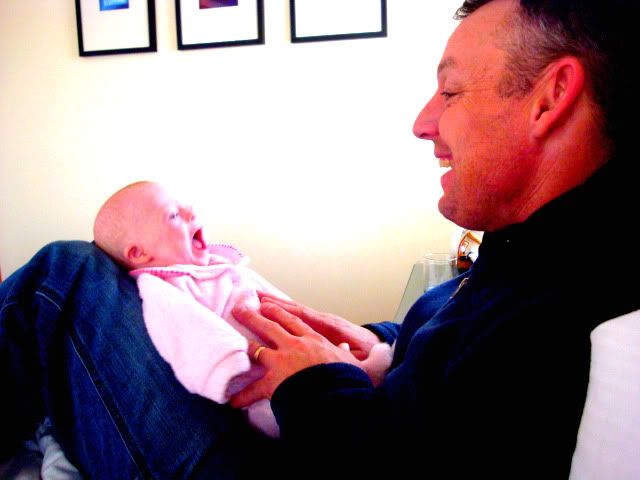 I know this little mini-vacation was intended to be a romantic get-away for your Daddy and me...but something tells me he was just as excited about a little love-fest with his Lilygirl. At home he has to share you with everyone, but whenever he gets this chance, you are all his.

Whether it was morning time snuggles, or front-packing you all over the downtown area while we window shopped and slurped ice cream cones..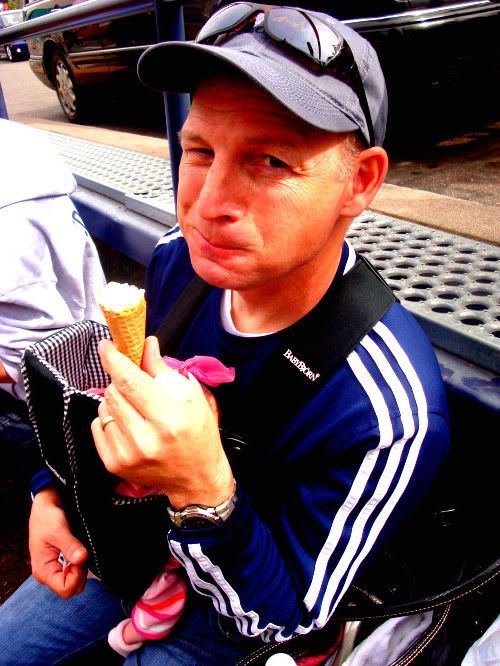 ...or just chillin' with you in his arms while he stood on the patio and watched the Hood river drift by...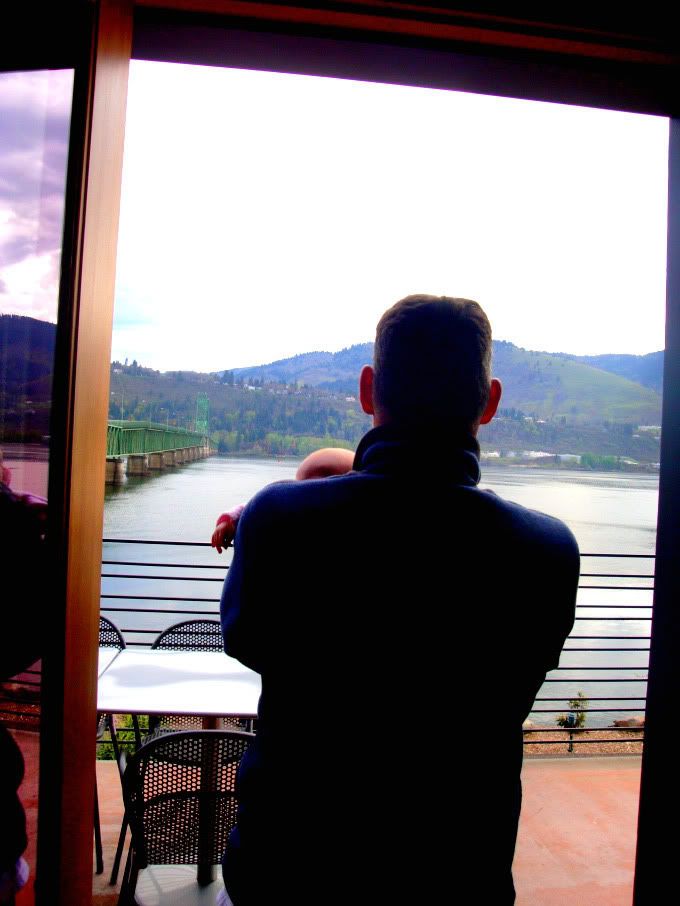 No matter what we're doing, you and Daddy are inseparable. And I don't mind playing second fiddle...if it's true that a way to a man's heart is through his stomach..then it's equally true, a way to a woman's heart is through her kids. My love for your Daddy has skyrocketed to new heights since having you. His complete infatuation and over-the-top adoration of you makes me so glad to be his soul-mate for 23 years.

And we're gonna grow old together, loving you:)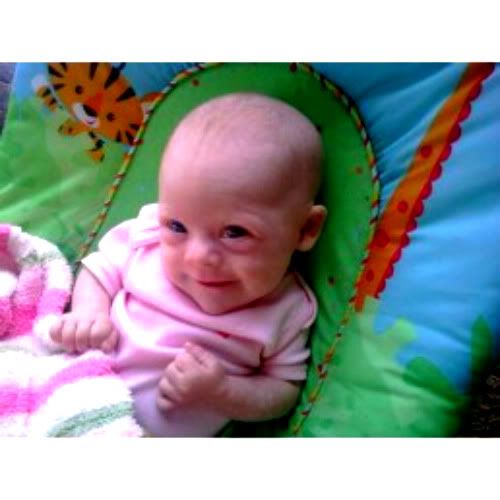 Love always,

Mama oxox